What to Do When an Ex-Employee Threatens Your Staff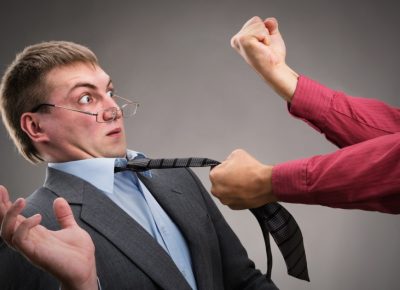 The thought of firing an employee is a stressful one. You have likely built a file against them for months on end, documenting every single thing they've done against company policy as well as complaints filed by co-workers and others from the company. When you finally decide to fire the employee, there's a lot that could go wrong, including the former employee making threats against your staff. Here are some tips for what you should do when an ex-employee threatens your staff.
Hire a Security Team of Private Security Guards
If you are concerned with any action the former employee might take against your staff, you should consider hiring a security team. An experienced security team can provide your company and its property with plenty of protection. Whether you need a security guard for the parking lot, parking garage, the lobby, or anywhere else on the property, it can be provided to ensure that your employees feel safe at all times. These guards can also escort employees to and from the office to their vehicles and vice versa.
Install Security Cameras
Security cameras are an important part of the protection you can provide your employees. They will be able to monitor a large area of your property, both inside and outside, and capture any incident that involves your employees. When there are security cameras present, you reduce the likelihood of an incident happening.
Increase Parking Lot Lighting
Is the lighting in your parking lot dim or ineffective? It might be time to install extra lighting. Make sure all corners are lit, as well as all walkways or hallways that lead to the parking lot or parking garage. You should also consider adding lights to the loading docks, basement, lobby and other common areas of your company.
Hire Armed Guards
There is a difference between a security team and armed guards. Most security teams hired for workplaces and complexes are unarmed. They usually only carry a flashlight and some mace. Some might have batons. If the threat is substantial, you might want to consider hiring armed guards to patrol your workplace. This might frighten the employees at first, but they will get used to it when they find out about the threat.
Inform the Authorities
Even though it is a smart decision to hire a security team or armed guards and improve the lighting at your workplace, you also need to inform the authorities of the threat. Documenting the threat with the local law enforcement agency will make it easier to prosecute the former employee if they ever step foot on your property again. You could also explore obtaining a restraining order or no trespass order.
Contact a Security Team Today
Have you recently fired an employee and are worried they will threaten your staff? Has your staff received threats from a former employee? If so, there's no time to waste. You need to contact the trusted and knowledgeable team from Reehl Investigations LLC & Security to add a security team to your property. Call the office at 1-609-744-6102 to schedule a consultation at your company.